MY
PR
ADVENTURES IN EGYPT
1/13/05
This week we're going to have a special edition of my adventures...in Turkey! I left Alexandria on 12/31/04 and took the morning train to Cairo. It was about a two-hour ride--not bad at all! I had never been to Cairo before, so I was excited. We got checked into our hotel and then set about looking for a place to eat lunch. We soon came upon an American restaurant called "Lucille's." It was good stuff--I got filet mignon for the equivalent of 8 USD! And who should we run into in the restaurant but some American friends living in Cairo! It was nice to catch up with them.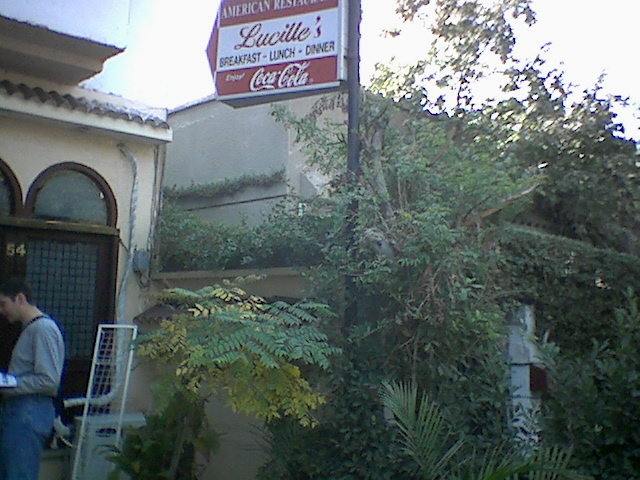 Then, as we're walking back down the street, I just happened to run into another American friend! I tell you, it's a small world--even in a city of 20 million! We got back to the hotel and I decided to take a walk along the Nile. It was pretty cool. But man, Cairo is polluted. I had heard stories before and thought they were exaggerations. Trust me, they're not. You can see particles in the air in front of you. And you can barely make out buildings that are just across the river or just down from your hotel! (For example, look at the picture on the right. That was the view from my hotel window. There are huge skyscraper-type buildings not that far off, but you can barely make them out! Squint real hard or enlarge the picture and you will see them. The picture on the left is of the Nile and the buildings across from it.)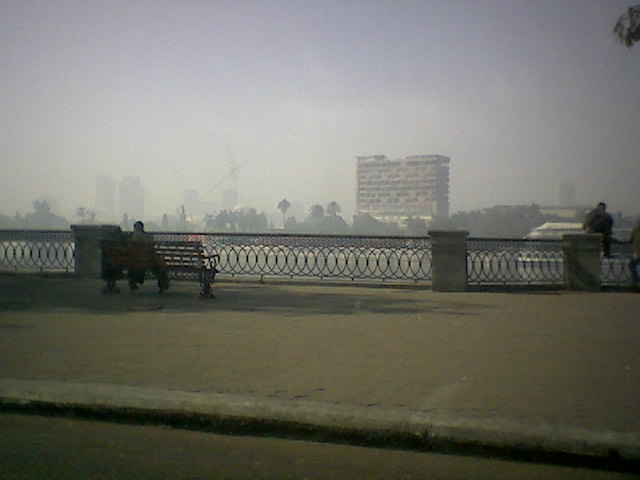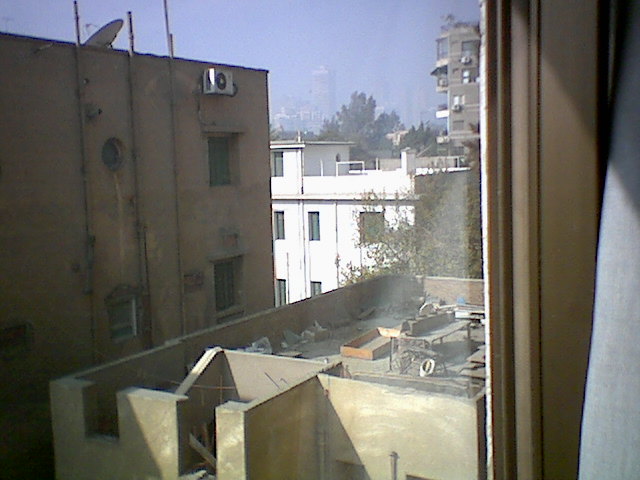 Anyway, back to my walk along the Nile. I couldn't actually get to the water where I was, because restaurants and businesses renting boat rides had bought up all the land along the river. I could walk on the sidewalk next to their land, but couldn't get down to the river unless I wanted to pay someone. Interestingly enough, the road in Cairo that runs along the river is also called the Corniche, just like the road in Alex that runs along the sea.

I got back to the hotel and called my friends to see what was going on. Some were going to a movie, and some were going to dinner. I opted for dinner. I had a four-cheese grilled cheese sandwich--yum! Our flight to Turkey left early in the morning on the 1st, so we couldn't really do anything for New Year's because a van was coming to pick us up at 12:45 a.m. So I just went back to the hotel and rested and took a shower. Then I watched TV to see if there would be any coverage of special New Year's events in Cairo. There were a couple of New Year's countdown programs, but none of them showed any live coverage of events in Egypt! One of the shows was pretty funny...it had two host ladies who would talk a while and then go to a clip of an American artist performing a song, or a clip of an American TV show. I couldn't discern any kind of pattern, but it was funny.

At the stroke of midnight, I could hear firecrackers, car horns, and cheering from the street below. But of course I couldn't see anything, due to the darkness and the pollution. This year was the first that I can remember that I did not get to see the ball drop in New York City. I was on a plane when it happened, and believe it or not, they didn't show it!

Our first flight was from Cairo to Istanbul. We didn't have a long enough layover in Istanbul to go out into the town, so we just stayed at the airport. It is a very nice airport, with several upscale shops, and even a Burger King! I was browsing through one of the shops, and saw that they had some Swatch watches. Well, you will never guess what one of the designs was. That's right, penguin! So, since I didn't have a watch over here, I went ahead and bought it. I was their first customer of 2005, and they had just switched over to a new currency that day, so it took them a while to get it right on their register. I should've known we were going to have issues when the clerk looked at me and said, "Do you have some time?" Haha....fortunately I had about three hours with nothing better to do, so it was cool.

My watch is on the left. Oh, one store in the Istanbul airport sold jeans, and one of their displays was so eye-catching that I had to take a picture (on the right):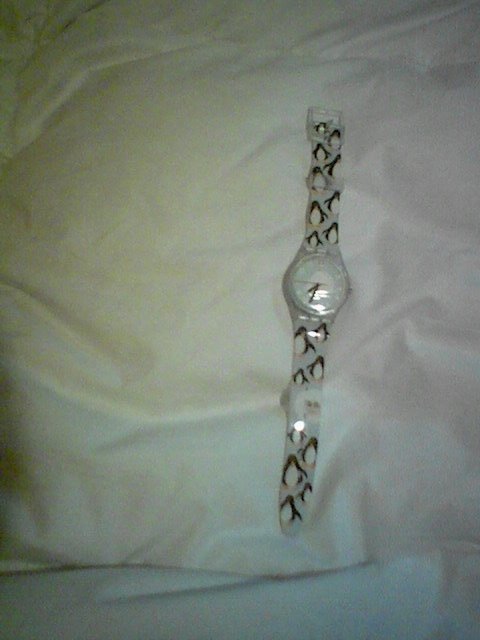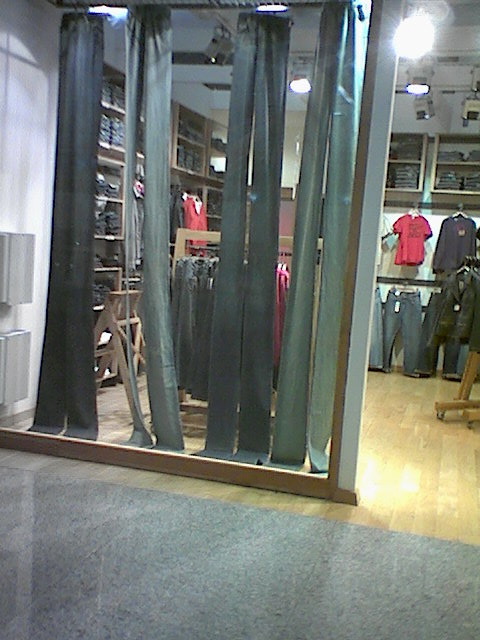 One thing interesting about Turkey is that they accept many currencies. This was not just true of the airport--it was true everywhere I went! They accepted US dollars, Euros, Turkish lira (old and new), and British pounds. They didn't accept Egyptian pounds, though...oh well. One other thing I noticed about the airports and Turkish Air in particular was their proclivity toward advertising. There were ads on everything! On the SIDE of the escalator. On the back of each bathroom stall door. On the back of your boarding pass. On the little TV screens in the plane. Yeah, I thought they were going to show us a movie or some kind of programming. Nope, those suckers ran ADS--for the WHOLE flight. Even when we had to put our tray tables up to land, those screens stayed down (they came down out of the ceiling) and the ads kept on running. They did not waste any space or time, that's for sure! Oh, and I got to ride Turkish Air both flights there and both flights back--so four flights. I guess I can't complain too much though--they fed me four times and got me there and back again safely!

Anyway, we finally made it to Antalya. Antalya is located on the southern central coast of Turkey, kind of in a little bay. It is a really neat place because it has beaches on the Mediterranean (to the south), and then it has mountains rising up in the west! The hotel we stayed at was a really nice resort. It was on the beach, it had multiple restaurants, two salons, and its own upscale health spa!
(In ancient times Antalya was called Attalia. The apostle Paul passed through there at one point. He also went to Perge, another town I got to visit that I will talk about below.)

On Sunday morning, I attended a worship service in an amphitheatre in Aspendos, a town nearby. It was fantastic! This Roman amphitheatre was built around 160 AD (during the time of Marcus Aurelius--think the beginning of the movie

Gladiator

) and is one of the best-preserved in the world. There is a certain spot on the floor of the theatre called the "platform" where you can stand and be heard by every seat in the theatre! They still run concerts here from time to time.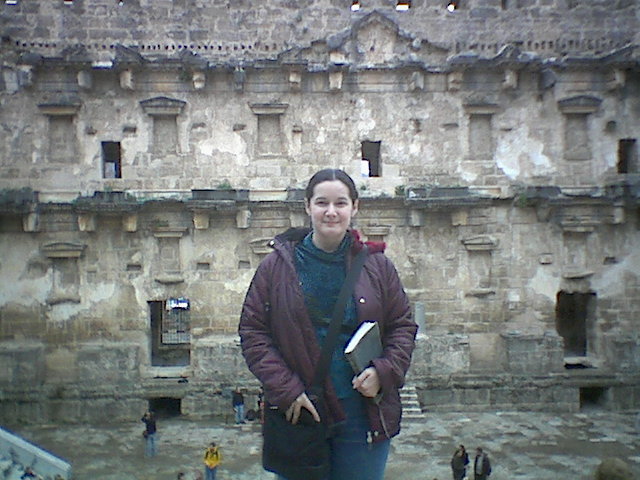 Click the picture to the left to see some shots from Aspendos.
Me in the Aspendos amphitheatre

On another day I was able to take a tour to the town of Perge. The main road had shops along both sides of it, with a long narrow decorative pool running along the middle. The pool had its origins in the hill at the end of the main road. They had built little "dams" along the way so the water wouldn't overflow or flow too fast. There was also a "plug" that looked just like the plugs still used in some baths today--only it was stone instead of rubber, and much larger. There were also holes with plugs at regular intervals along the side walls of the pool. This was so they could release the water into the street from time to time to wash the street. The street was tiled, and most of the tiles are still there. They have left some visible, but covered up the rest to better preserve them and keep them from getting stolen. There were also columns lining the road. It must have looked beautiful back in the day. One lady in my tour group made a comment that I thought was so true. She said, "Think about our malls today. They have tiled floors, stores on either side of a main hall, and usually fountains and columns." Haha--we haven't come that far, have we?

And guess what? The stalls where the shops would have been were not empty. There were some people who set up "shop" in those empty stalls to sell stuff to the tourists. Of course, this is illegal, so they had their stuff laid out on a long cloth, and every time one of the security people walked by, they rolled up the cloth and moved somewhere else. I think the security officers know what's going on, but I guess they will continue pretending to enforce the law as long as the merchants continue pretending to obey it!

There was a Greek gate and a Roman gate. There was also the Forum, which was off the main road but also had shops and columns. Between the Greek gate (which came first) and the Roman gate (which was farther out than the Greek gate), there were the Roman baths. There was a hot room, a cold room, and a warm room. It was interesting to see "underground" in the hot room, how they had pumped the water in there and heated it so that the steam would rise up through the floor and make a steam room!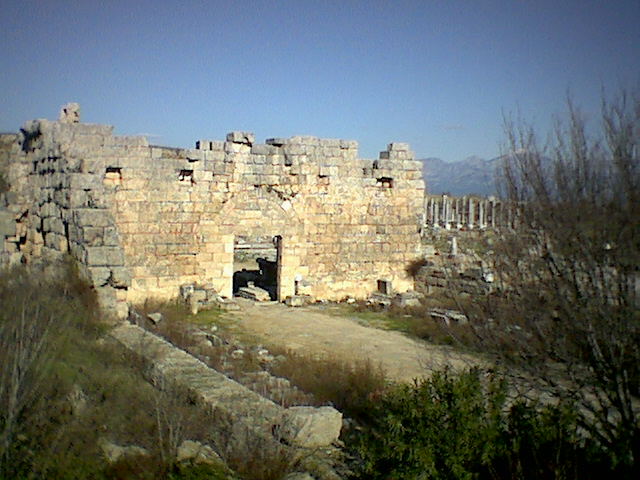 Click the picture to the left to see some shots from Perge.
Roman gate, Perge, Turkey

Turkey was wonderful, but I was glad to get back home to Egypt. For one thing, I couldn't understand any of the Turkish language. (It did not seem to have any basis in Semitic, Teutonic, or Latin languages. I think it might be related to a Slavic language of some sort--it was very strange.) But my ears would perk up whenever I heard English or even Arabic. I didn't hear Arabic that often though--only once or twice.

For another thing, I found myself getting annoyed with the orderly driving in Turkey. People were obeying traffic lights, following a speed limit, and staying in their lanes. I kept thinking, "Go faster!" or "Pass him--you've got room!" It was good to get back to Egypt where people drive like they mean it. They go as fast as they can, wherever they can fit their car, and don't stop for anything (unless a policeman is there enforcing the traffic lights or directing traffic). Now that is my kind of driving--never a boring ride!

When I came back through Cairo, it was somehow even more polluted than the first time I passed through! It made me thankful that I live in Alexandria. Oh, and in case you were wondering, I didn't get enough time to see any of the sights in Cairo this time around, but I'll make another trip later. The pyramids have survived thousands of years of catastrophes, weather, and people, so I'm sure they'll still be there for me.

I know this has been a long update...thanks for reading!