MY
PR
ADVENTURES IN EGYPT
04/13/06

Family Trip: Part Two--Victoria Falls (more pics), Aswan, Luxor, and the Sinai


I received the CD with my family's pictures from the trip, so this update will mostly be a showcase of some of those pictures (all courtesy of my dad). I will also talk about the rest of the trip after Victoria Falls (yes, there was more!). Remember that my two sisters returned to the U.S. after Bahariyya, and then it was just me, my mom, my dad, and my brother.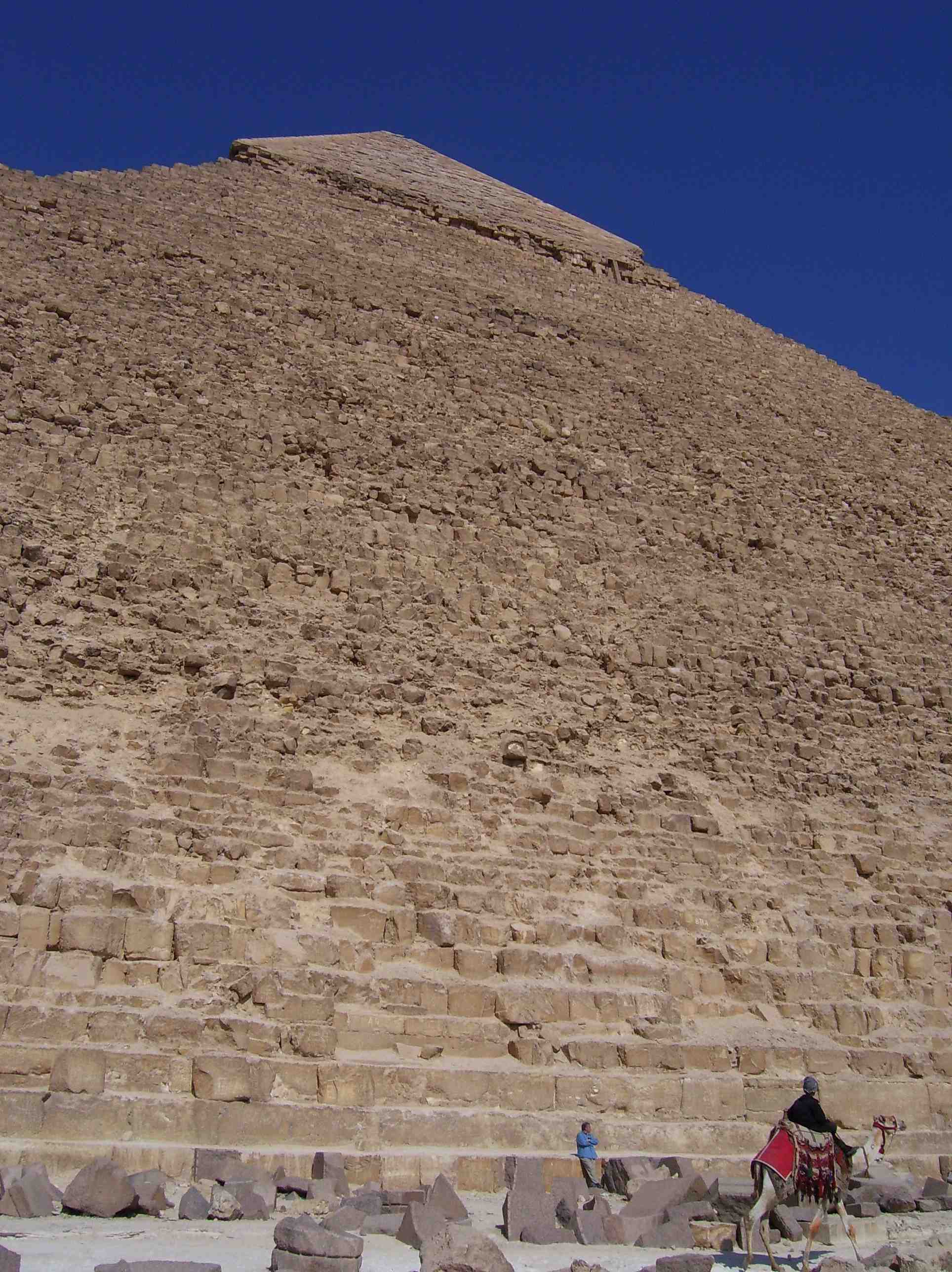 Click the pyramid for more pictures from Cairo, Alexandria, Click Dad and Livingstone for more pictures from Victoria Falls
and Bahariyya. (See the small blue speck at the bottom?
That's my dad.)

After we returned from Victoria Falls, we hopped on a sleeper train from Cairo down to Aswan. It's about a 13-hour train ride, so having the sleeper option is definitely a plus. I had never been on a sleeper train before, so it was a nice experience! We had two compartments, and each one had a couch that converted to a bed, a sink with mirror, and a top bunk bed that came down out of the wall. Dinner and breakfast were included as well. I would highly recommend the sleeper train to anyone needing to travel a long distance along the Nile...it was great!

We pulled into Aswan the next morning and checked into our hotel. We then took a tour of the Old Dam, the High Dam, the Temple of Isis at Philae, and the Unfinished Obelisk at the marble quarries. The Temple of Isis was neat because it had been moved from the original island of Philae onto another island when the High Dam was built. Many countries contributed to rescuing as many of the ancient sites as they could before the completion of the dam would flood them. The Temple of Isis was deconstructed piece by piece and reassembled on a different island. The new location was even landscaped exactly as Philae had been. They did this with several sites. For some sites, there was nowhere in Egypt to relocate them, so they gave them as gifts to the countries that had helped with the project. So in certain museums around the world, there are whole Egyptian temples reconstructed inside the museums! Of course, there were several sites that were not able to be rescued before the completion of the dam, so those were lost forever. =(

To get to the Temple of Isis, you have to take a boat from the mainland out to the island. There are several boats there to choose from. You can get a ferry-type boat, or a private boat. If you take the ferry, you have to wait until the boat is full. We opted to take our own boat, since there were four of us and we got a pretty good rate. Well, it being my family, we of course happened to pick the slowest boat on the water. As we got underway, we soon noticed that the ferry boats which were empty when we took off had filled up, departed, and were now actually passing us! The poor boat guy said he was going as fast as he could, but his motor wasn't so good. Oh well, we got there eventually, so it was fine.

Later that night, we went to the Nubian Museum in Aswan, which is one of the best museums in Egypt. Everything is clean and displayed nicely and clearly labeled. It puts the Egyptian Museum to shame! After the museum, we were trying to figure out where to eat dinner. My guidebook mentioned a nice restaurant near the museum that had a great view of the Nile, so we thought we'd try to eat there. It took us a while to find a taxi driver who knew where it was, then we started driving. We came into a dark neighborhood and started winding our way up a steep mountain. He parked in front of a dark building where there was absolutely no signs of life, and said, "This is it." We were a little apprehensive, so we told him to wait while we decided if we wanted to eat there. We got out of the car, and soon a man came out of the building to greet us. I asked if this was the restaurant and if it was open. He assured us it was, and led us around back. Well sure enough, there was a restaurant there. However, there were no people. It was only 9:00 or so at night, so I thought there would be more people, but apparently Aswan dies down a lot earlier than Cairo and Alexandria. There

was

a nice view of the Nile, but since it was so dark, you couldn't see much. We looked at the menu to see if we wanted to stay there, but were still feeling a little wary about the lack of other people and the remoteness of the restaurant, which meant that it might be hard to get a taxi back to our hotel. After my brother observed that this setting and these factors reminded him of the beginning of a horror movie, we decided not to eat there. =)

So we returned to our taxi and drove back to civilization. We found a nice restaurant in a boat on the Nile, which was also highly recommended in my book. There were a few other people there, it was close to our hotel, and the food was good.

The next day we were going to try to get over to the West Bank to see a few sites there. My guidebook said we could take a ferry to Elephantine Island, and then another ferry from there to the West Bank. The book also recommended walking through the Nubian village on Elephantine Island in order to get to the other side where the ferry to the West Bank was located. Well, we got on the ferry from the East Bank and made it over to
Elephantine Island okay. Then we started walking through the Nubian village toward the spot where the other ferry was located on our map. We kept walking and walking, and we made it to the other side, but there was no ferry. We asked someone, and he said there was no ferry, only felucca boats. So we went back to where the felucca dock was (cutting through someone's farm on the way), and made a deal for a boat ride with a man who said he was the chief of the Nubian village there. We were thinking we would go to the West Bank, see a couple of sites, and then hit Kitchener's Island on the way back to the East Bank. Unfortunately, we greatly underestimated the speed of a felucca boat. There are no motors on these sailboats, so it has to go with the current and the wind. It takes the boat forever to get anywhere, as it has to go in a zig-zag pattern instead of a straight line. These boats are wonderful for relaxing and sight-seeing from the water, but I wouldn't recommend them if you are just looking to get from Point A to Point B quickly. Our train from Aswan to Luxor was leaving that night, so we didn't have a lot of time to spare. We ended up getting to the West Bank, but since we had learned that the sites we wanted to see were a good distance from the shore, we didn't actually get out of the boat. We then went to Kitchener's Island, got out and walked (rather quickly) through the botanical gardens there, got back in the boat, and returned to the East Bank and our hotel. So it was a bit disappointing not to see the sites of the West Bank, but there was nothing there we were really dying to see. The boat ride was very nice--the weather was perfect, the water was a pretty blue (not the dirty brown like in Cairo), and it was relaxing just to float along.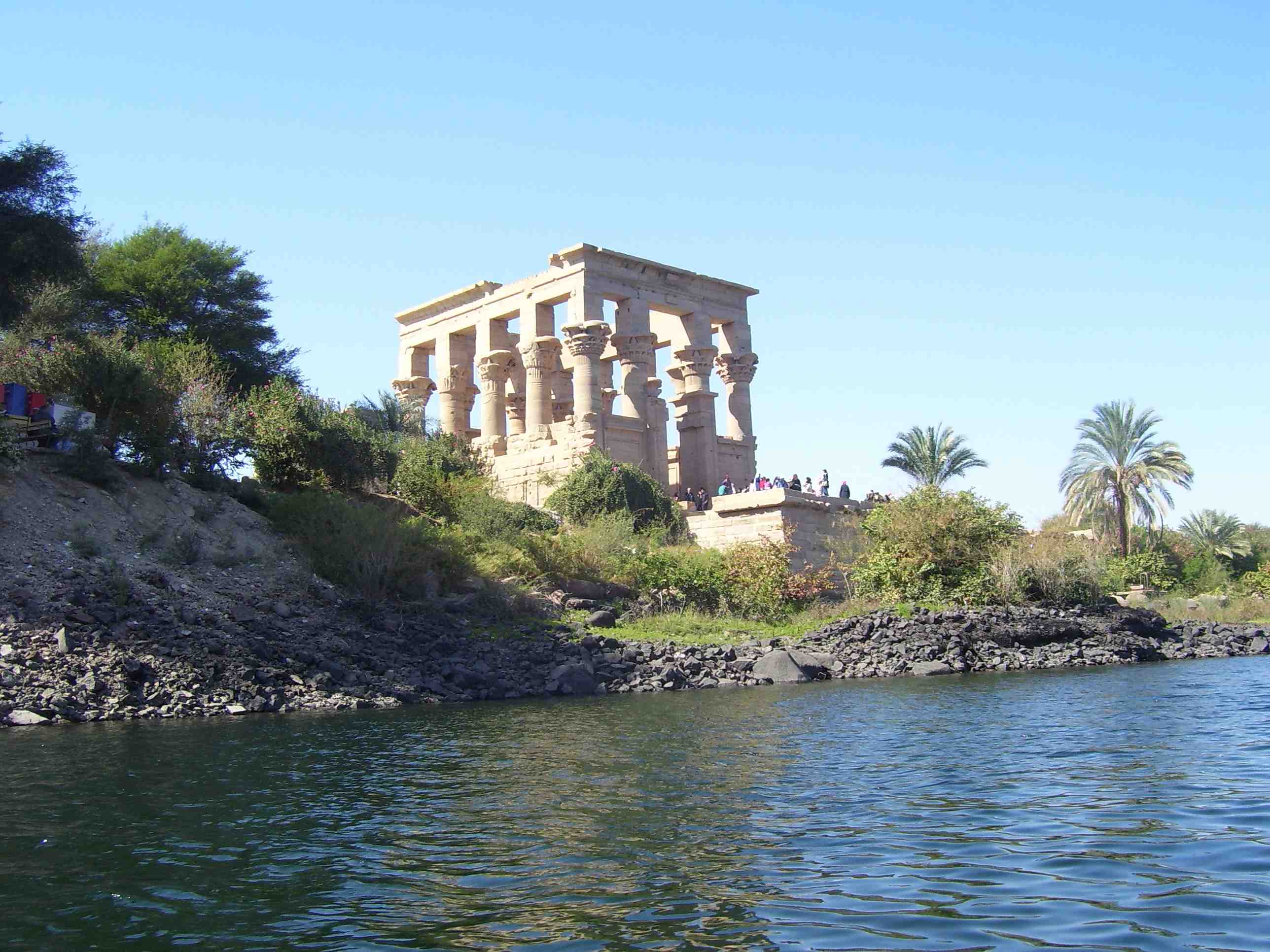 Click the picture of Philae for pictures from Aswan.

After the boat ride, we went back to the hotel to get our things, and then caught the evening train to Luxor. On the three-hour train ride, we met a nice family with a young daughter, and my parents really bonded with her. Since they lived in Luxor, the father gave us their phone number and told us to call when we were ready to head back to Alex, and they'd give us a ride to the train station. When we arrived, we got checked into our hotel, had some dinner, and then went to sleep.

The next day, we focused on seeing the sites of the East Bank. We saw Luxor Temple, had lunch, and then went to see Karnak. However, Karnak closed earlier than we had thought it would, so all we could do that night was see the Sound and Light Show. (We had wanted to do that anyway, because I had heard it was good and that it was neat to explore Karnak in the dark.) This show took you through Karnak in stages, and they would light up certain things as they talked about them. Then at the end, we were herded into some bleachers to listen to the final part. From the bleachers, you can get a good view of the expanse of Karnak. Then afterwards, they were trying to herd us out, but my brother and I broke away from the group so we could explore a little on our own. We wandered around for a bit before the guards found us and made us leave. Oh well, it was fun while it lasted. =)

The next day we focused on the West Bank of the Nile. We actually hired a driver and tour guide through the hotel, so that was nice. We saw the Colossi of Memnon, the Valley of the Kings (we each saw 3 tombs there), the Temple of Hatshepsut at Deir-al-Bahri, and the Medinat Habu temple. Then we returned to the East Bank and went back to Karnak Temple to see it in the day time and have more time to wander around there.

We went back to the hotel to get our bags and called the friend we had met on the train. When he came to pick us up, he said he wanted to take us to his house first. Well, that was a surprise! We were a bit nervous because it was almost time for the train, but we went anyway. They served us some cake and soft drinks, and we had a nice time talking with them. Then he rushed us to the train station and made sure we got the right train (which ended up being delayed anyway, so there was no need to worry after all). This was another sleeper train, and we rode it all the way back to Alexandria.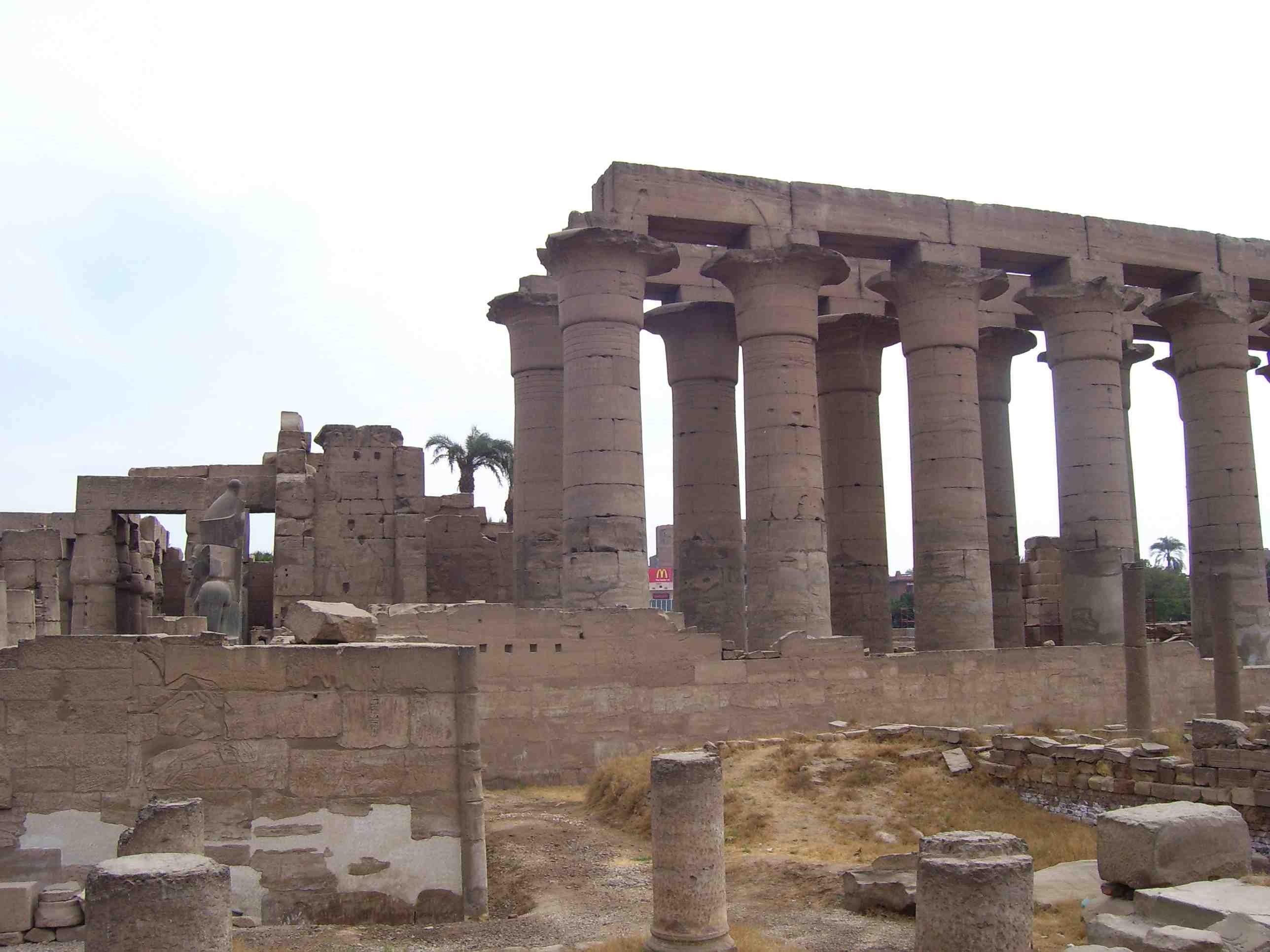 Click on the picture of Luxor Temple for pics from Luxor (and yes, that IS a McDonald's sign peeking between the columns....and yes, we ate there).

We then enjoyed a few days of "down time" in Alexandria, which we spent resting, visiting with my friends, and doing laundry. Then it was off to the Sinai! We were able to ride over there with some friends in their cars, so that was a blessing since it is quite a long drive. We first went to Dahab and visited with some of the locals there. We also enjoyed eating dinner on the boardwalk along the sea. (This is the town on the Gulf of Aqaba, where you can see Saudi Arabia across the water.)

We went over to St. Katherine one day and visited the monastery at the base of Mt. Sinai, as well as a Bedouin handicraft shop. We explored around some of the hiking trails there, but did not climb the mountain itself. We returned to Dahab to spend the night. When it was time to go, we took the bus from Dahab back to Cairo. We said good-bye to my brother before leaving Dahab, since he was going to be staying in Egypt a bit longer and he was going to hang with one of my friends there in the Sinai for a little while.

The bus ride was long, made even longer by the breakdown of our bus somewhere on the west coast of the Sinai Peninsula (it's my family, I tell you!). Fortunately, it broke down in an actual town, where there was an actual bus station, so we had somewhere to sit and grab a bite to eat while they figured out what to do with us. Eventually they brought another bus for us, and we took that one all the way back to Cairo.

Now, this bus ride was on the day that Egypt was to play in the championship game in the African Cup of Nations, a huge soccer tournament. Egypt was also the host country, and this final game was in Cairo. We were originally scheduled to get back to Cairo before the game started, and we were going to watch it at a friend's house. But since we were delayed, we didn't get back until the last half of the game. The bus driver was driving VERY fast so he could get back in time to watch it. He kept trying to catch it on the radio, but there was no such luck. When we finally arrived, everyone rushed over to the TV at the bus station to see what the score was. (When soccer games are on TV, they are on in every little business on every street--pretty much EVERYONE has a TV in their little shop.) It was still scoreless. So we got in a taxi to head over to my friend's house. We had to stop on the way for gas, so we checked out that TV too. Still scoreless. As we were nearing my friend's house, we heard a big cheer and wondered if Egypt had scored. We reached my friend's house and rushed in asking what the score was. (Looking back, I guess we should've said, "Hi, how are you?" first.) Can you believe she hadn't even been WATCHING it? Well, she went to turn on her television and it DIDN'T WORK! We about DIED. (She hadn't watched TV in a while, and the last time she had watched it, it was working. Strange.) So we got on the internet and "watched" that way.

The game was in overtime. Turns out the cheer had been for a goal that Egypt THOUGHT they had scored, but which was not counted. The game went into penalty kicks, and eventually Egypt won! Well, there was a big party in the streets after that! We saw some make-shift "parades" going by outside my friend's window. It was quite a sight.

Eventually, it was time for mom and dad to go to the airport, and we said good-bye. But not before checking my email, where I saw a message from the American Embassy in Cairo advising that we not do the following three things on that day: 1) Go to Cairo, 2) Gather around TV screens with groups of Egyptians watching the game, and 3) Go to the Cairo Airport. It's too bad that I didn't check my email the day before, because we did all three of those things! What can I say--we're a bunch of rebels. =)



*PERMALINKS*
Click on the bungee penguin to view the video of my bungee jump at Victoria Falls (right-click to download). It's 3.6 MB and in the Quicktime .mov format.



Click the arrow for previous updates.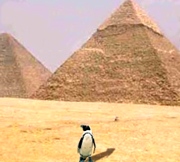 Click here to view or sign my guestbook!