MY
PR
ADVENTURES IN EGYPT
12/19/04
I have arrived safely in Alexandria and have begun exploring my new surroundings! I really like it here. There is lots of activity going on at all hours...this is a big city and it never sleeps! In my neighborhood there are lots of shops and places to get food...even a new coffee shop! I am about two blocks away from the sea. It is not a bad walk at all. Once you get up to the main street along the sea (called the Corniche), you can cross the street via an underground tunnel. Then you arrive on the other side and you can stroll along the walkway by the sea. There are covered areas with benches all along this walkway as well. My area does not have a beach, but if I walked a little to the east, there would be one. My neighborhood is Sporting, and we are located just a little east of the Eastern Harbor. Alexandria has an Eastern and a Western Harbor, divided by the spit of land where Fort Qaitbey stands. Fort Qaitbey is built on the spot where the Pharos Lighthouse (one of the seven wonders of the world) once stood. They used some stones from the Pharos to build Qaitbey, and some of the Pharos' stones are visible under the water near the Fort as well. Anyway, I can see the Fort from the coast by my neighborhood.

My neighborhood also has a "country club" of sorts called the Sporting Club. This club was built in 1898 and is where my district gets its name. You can join it or you can pay to go in for the day and use its facilities. They have a weight room, tennis courts, pools, an 18-hole golf course, and a running track. The track is said to have been used by Cleopatra for horse races! And indeed they still held horse races here until the 1960s.

We have a tram that runs throughout the city, and there is a stop right by my neighborhood. It is a very convenient way to get around, and only costs the equivalent of 4 cents (USD) to use it! Taxis are also very convenient and can get you anywhere in the city for less than a dollar. In fact, most everything here is really cheap. I got a chocolate cappucino at our local coffee shop today for about 65 cents. The only things that are more expensive are imports.

My apartment is really nice--much larger than what I had in the U.S. The common areas have beautiful tile work, and the bedrooms have hard wood floor. It is pre-furnished, so that was nice. The shower is in a big room, just on the wall. Also in the room are a sink and an electrical outlet! So you can do lots of things while taking a shower, but I guess this would be one place where you would need to pay attention to the warning label on your hairdryer that says not to use it in the shower. The toilet is in a separate room.

The apartment has three balconies: one off my bedroom, one off the kitchen, and one off the sitting room. They all face different directions, so that is nice. The main one, off the sitting room, is larger and overlooks the garden courtyard of our building. It would also have a view of the sea if there wasn't another building in the way!

I got to attend services on Friday with a local international congregation. That was nice, and one of the families was hosting a holiday party that night and they invited me. That was a really fun time. I got to meet lots of people, and we had lots of food and sang carols! They wanted to sing all the carols about snow...hahaha! Most congregations meet on Friday since that is the day of worship around here.

In fact, when we got out of our service, we could hear the local service being broadcast over loudspeakers from the mosque. Every mosque broadcasts its entire service on Fridays so that everyone can hear one, no matter where they are in town. Also the call to prayer is broadcast from every mosque five times a day. There are two or three mosques within earshot of my apartment, so I get to hear LOTS of calls to prayer! And they are not always simultaneous, so that's fun. Even in public places and malls and such, the call to prayer is broadcast and there is a prayer room where people can go to pray.

I had my first Arabic lesson on Saturday. I have a tutor until the end of January, and then we'll see what I'll do after that. I thought the lesson went well, and my tutor said I did a good job, so that's encouraging!

If you want to see pictures, click on the following links:

Click on the picture above to see pics from Frankfurt, Germany.
(I bummed around the town for a bit while there for my 14-hour layover)

Oh--one tidbit from the airplane. On the flight from Atlanta to Frankfurt, there was a guy sitting diagonally across from me who did everything opposite from the rest of the plane. He slept the whole time while the lights were on and the meals were being served. But as soon as the lights went out for us to sleep, he woke up and started working on his laptop and studying some notes from a class. When the lights came on again for us to wake up and have breakfast, he went back to sleep. So he never had a chance to talk or interact with anyone. I happened to catch a glimpse of the heading on his page of notes, and do you know what he was studying? Conversational Skills. You can't make this stuff up. =)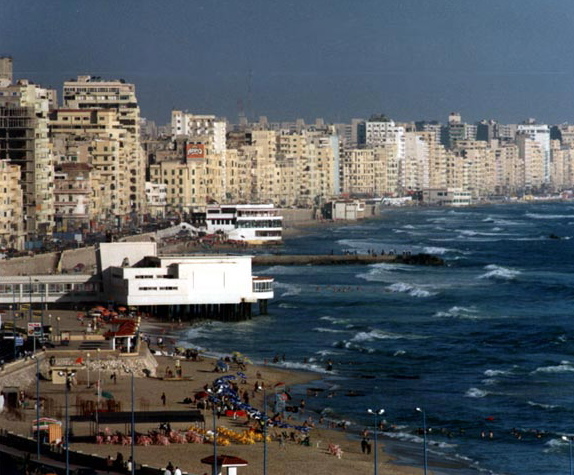 Click on the picture above to see pics from Alexandria, Egypt